From Grey sky in Antwerp to blue waters in Abu Dhabi : long trip but finally arrived at home !
Lagoon 42 : A sleek, modern design.
This new member of the Lagoon family has style and a strong personality.
While keeping a family resemblance and retaining the main features of the latest generation of Lagoons, it shows us a new path: unhurried evolution, a new "organic" approach, in search of harmony between living space and man.
An elegant silhouette, flowing curves which, by virtue of a noticeable acceleration of the lines in the bows and in the new coachroof design, emphasise the powerful and dynamic nature of this new model… A VPLP design naturally, a guarantee of performance under sail! (in vidéo)
–> (In vidéo) First Lagoon 42 delivered in Middle East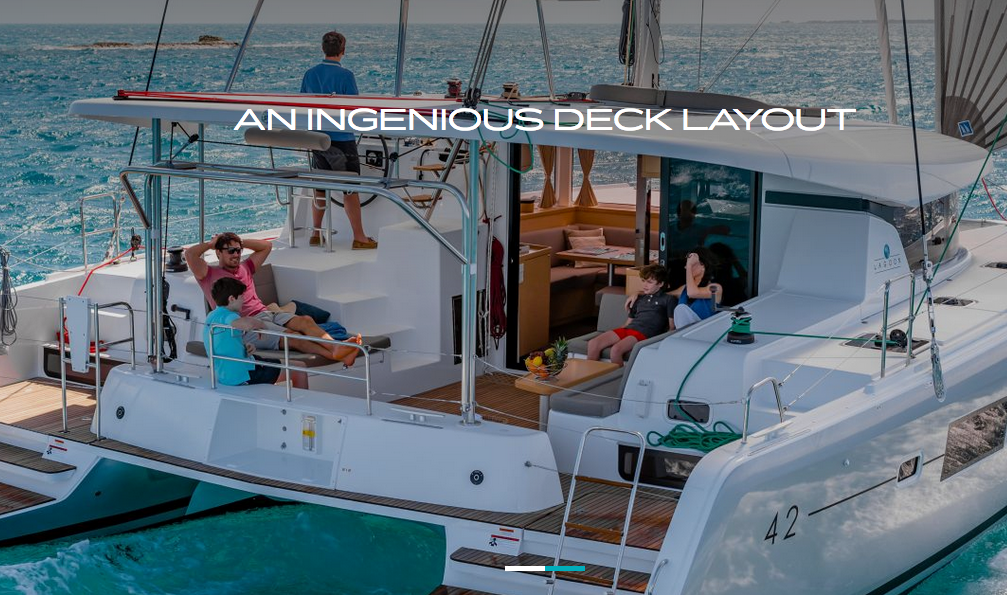 Lagoon 52F : luxurious and contemporary
The 52 marks a whole new era in the design of cruising catamarans, as indeed did its predecessor, the famed 500.
With its diamond-shaped vertical bows, bevelled hulls, its as if levitated deckhouse and tall rig, the 52 is no ordinary catamaran, but its originality goes a great deal further than just its "outer" appearance, or even its interior layout.
This Lagoon is the result of lengthy discussions between the architects at Van Peteghem-Lauriot Prévost (VPLP), the Italian Nauta Design agency and the Lagoon design department. These discussions led us to make some important and sometimes radical choices, while remaining faithful to what we believe in, in terms of elegance, comfort, safety, user friendliness and, it goes without saying, performance under sail.
The 52 is now available in 2 versions: FlyBridge or SporTop.
–> (In vidéo) Lagoon 52F delivered in Middle East