November 20, 2016 - The Lagoon 42 awarded for the third time in a row !
Launched on January 2016, the 42 has just won the prestigious "best multihull cruising boat 40 to 50ft." award as part of SAIL Magazine's Best Boats yearly awards. This is the third award in a row in less than one year that this boat wins.
Earlier, the 42 already won an award in the UK in the multihulls category at the Sailing Today Awards and was awarded "best multihull sailing yacht" in Asia at the Asian Boating Awards.
Keep in mind that the boat is among the 5 European Yacht Of The Year (EYOTY) finalists whose award ceremony will take place on January 14th, 2017 during the Düsseldorf's International Boat Show.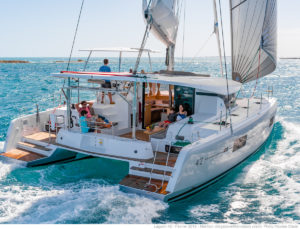 Source : Cata-lagoon.com