November 20, 2016 - The delivery of a boat: An undeniable source of happinessletters !
The delivery of a boat is a milestone in the life of an owner. Whether at Les Sables d'Olonne in the case of Lagoons of less than 46 feet, or Bordeaux for the larger models, the Lagoon delivery teams devote all their energy to ensure that this moment is one of happiness for the new owner.
Nicolas Rousseau, of the Lagoon handover team in Bordeaux, explains these stages to us.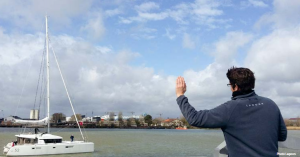 Setting a handover date
The production department gives us boats' ex-works availability dates, so that we can draw up a provisional handover schedule. Then the sales department advises the distributors, so they can inform their customers.
Preparation of the boat
From the time a boat leaves the factory, we have 10 working days to deliver her to the future owner. Within 5 days of leaving the production line, the despatch team, managed by Stéphane Gallot Lavallée, prepares her, steps the mast and launches her. Then we have 5 days for final preparations and tests at the pontoon. It's the despatch team that undertakes these preparations, in accordance with a fifty-page testing schedule, listing all the items to be tested (air conditioning, electrical systems, autopilot, etc.).
The delivery team then performs a pre-delivery inspection from the customer's point of view, in accordance with another checklist. We test everything and draw up a list of adjustments to be undertaken by the despatch team.
Handover to the distributor
In conjunction with the distributor, we draw up a handover report that enables verification of conformity between the boat delivered and the boat ordered. The distributor may express concerns, which we address prior to delivery to the owner.
Handover to the owner
Two days later, the customer arrives and finally takes possession of his boat. We make him welcome, together with his distributor. Generally, it's a very special time and we always pay special attention to the owner, who is officially becoming a member of the Lagoon family. It's always a very emotional moment, a happy moment, that I love above all else. It must be super! After each boat has left, we hand the file over to the customer service teams so that the boat can be provided with support services, even far from the boatbuilding yard, in conjunction with the distributor.
What determines a good handover?
A boat, a distributor and an owner that are organised to arrive on time (the days of work before the hand over to the distributor are very important). All of this greatly contributes to the success of the handover.
Source : Lagoon Mag