October 29, 2016 - The 100th Lagoon 620
On 25 February, the 100thLagoon 620 left the plant with great ceremony! The sale of 100 boats in this category is a real success, which the Lagoon teams immortalised in the shipyard with a «family» photo including all the men and women who contributed to the construction and the success of this handsome vessel.
This 620, after spending a few weeks at La Rochelle, will go to sea on a cargo vessel, heading for Port Kelang in Malaysia, where her new owner awaits. A splendid cruising programme with family and friends awaits her, between Malaysia, Thailand and the Philippines.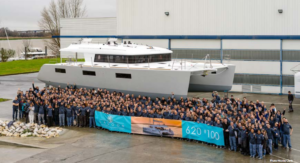 Source : Lagoon Mag