February 20, 2016 - Lagoon 620 – Sailing in Dubai
For the first time, the Lagoon 620 will be presented exclusively in the Dubai Boat Show (1-5 March, 2016)
. His name is #Shogdubai !
The Lagoon 620 is a more luxurious home that can be sailed around the world by a couple in a great comfort. The Lagoon 620 offers large yacht innovative solution to a new cruising habits and every owner will find the type of accommodation that best suits his sailing schedule.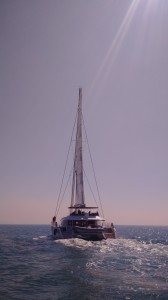 Interior design bears the Nauta design office signature for "Large" Lagoons: complete interior layout packages elegantly incorporating wood finish, upholstery, interior liners, and more strength, comfort, speed, versatility: a provider of long-lasting feelings in a unique, exclusive and luxurious yacht.
Source : www.beneteau.cn