Outside the L46 :
VPLP accomplished the perfect balance between the different living spaces.The 46 combines modular front and aft cockpits, a complete cooking area at the back, a practical and safe access to the sea, still giving Nauta large volumes in the salon to fully express themselves.
With its double access, the Flybridge is dedicated both to manoeuvring and relaxing. The centred helm station offers protection and visibility.
For even more comfort, different solar protections are possible: a folding cabriolet or a rigid Bimini.On catamarans of this size, the dinghy hoist system is usually a simple offer. On this 46 it is possible to choose either a classic stainless steel davits or an hydraulic platform. This last option offers an easier access to the water while offering a new living space at the back of the boat.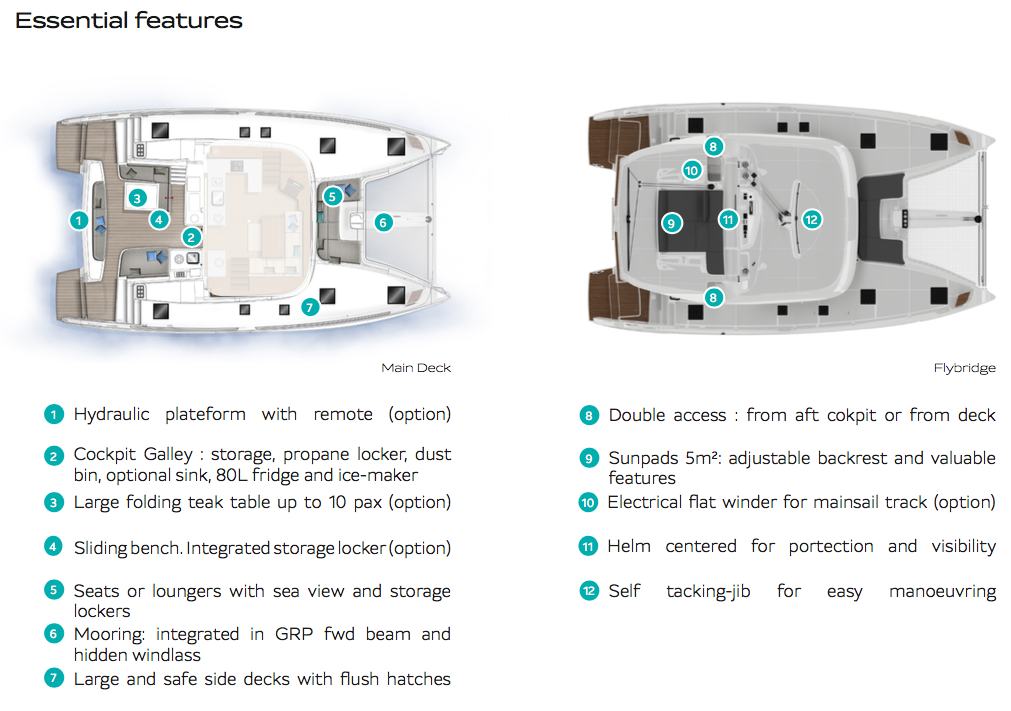 Inside the 46 :
Designed by Nauta, the inside embraces a re ned, elegant and functional style.The owner suite is generous and equipped with an island bed for an optimal comfort.
The other cabins also adopt impressive volumes, in particular the front cabin where the bed is now as comfortable and spacious as the aft cabins. The amazing life quality on-board is guaranteed by careful nishing and interior lighting.
No borders between inside and outside thanks to a large sash bow window in the front: a great connexion between front cockpit and salon.