May 22, 2014 - Tan 66 visiting Marsaudon Composites shipyard in France – Tan 66
Xavier Bouin has met with Samuel Marsaudon from Marsaudon Composites shipyard, based in Lorient (France). You can discover an interview with Samuel Marsaudon on our YouTube channel.
According Xavier Bouin, Marsaudon Composites was a natural choice to build the Tan 66. Their expertise in carbon fibre composite is very high. They have also twenty-seven meters oven. Therefore we can put the Tan 66 completely inside the oven and it is very important for the building of this kind of luxury boat.
The contact between Xavier and Samuel Marsaudon was very important. Samuel Marsaudon was impressed by the project that seemed very good. 
Marsaudon Composites already have a considerable amount of expertise through the yard's history in racing and crusing boats. They have made lots of very famous sailing and cruising boat in carbon fiber such as IDEC and Paradox.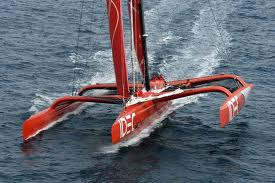 The Tan 66 will be made from the moulds of race. They did something similair on a the Paradox boat which has proven its worth in the West Indies over the past couple of years. Those boats have exceptional comfort in relation to speed.
In the Tan 66 projet, Samuel Marsaudon found something that was higly reminiscent of a catamaran version of Paradox. There is more space down below and hence a more luxury.
The « Made in France » is also a very important part of the decision to work with Marsaudon Composites. A synergy between Marsaudon Composites, VPLP and Lorima is really essential for the Tan 66 projet. They can communicate each other because they have a special working relationship.
For exemple, VPLP and Marsaudon Composites have been working on the central hull mould for Geronimo, Olivier de Kersauzon's boat in 1999.
You can find all of these elements on the Tan 66 YouTube Channel.